GIFs are animated pictures which usually contain something really funny or really cool. It might not be the very best for your moving wedding pictures – you are better off sticking to a wedding video for that – but they do make some great funny wedding scenes which are a little cringe worthy.
Check out our 6 favorite animated wedding GIFs:
1. You had one job!
2. One of the best bouquet tossing pranks I've seen!
3. Hands down one of the best wedding entries from The Office TV-series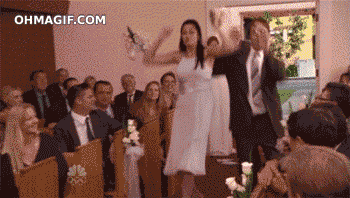 4. Timber!
5. You are going to save the camera and not your bride? Really? Not cool!
6. She might be a bit too happy about this…
Bonus: great, but not funny!

It seems like an animated GIF can actually make a great wedding picture.